My Team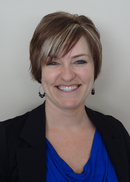 Katherine A Fay
Associate Financial Representative
Office 612-758-7600

Katherine joined Ross's team at Northwestern Mutual in January 2013. Prior to joining Ross's team Katie worked at Progressive Insurance and Sam's Club as a Front End Team Leader. She is originally from Richmond, MN and graduated from ROCORI in 2005. Katie has a Bachelor of Science degree in Business Management from St. Cloud State University.
She was married to Kris Fay in 2011. Together they have a large black lab named Toby who loves to swim and hunt. Her hobbies include: golfing, being out on the boat, riding their motorcycle, and being around friends and family.
Katie is referred to as "The Organizer" on our team. She keeps Ross organized and prepared by performing the necessary daily activities to keep things running efficiently. Once an application has been submitted it is her job to make sure it is handled through the underwriting process up to the point that we can deliver it.